Updated: 3/29/19

Spice mixes are a great way to give the gift of better taste to your favorite people. Not to mention that — like superfoods — many herbs have nutritional powers that warm, calm, cool, excite and balance our bodies. You don't need fancy or expensive spice mixes to reap the benefits of these amazing foods (and their flavors) because homemade spice mixes are easy to make and can take on any personality or flavor you like. Best of all? They are sodium-free!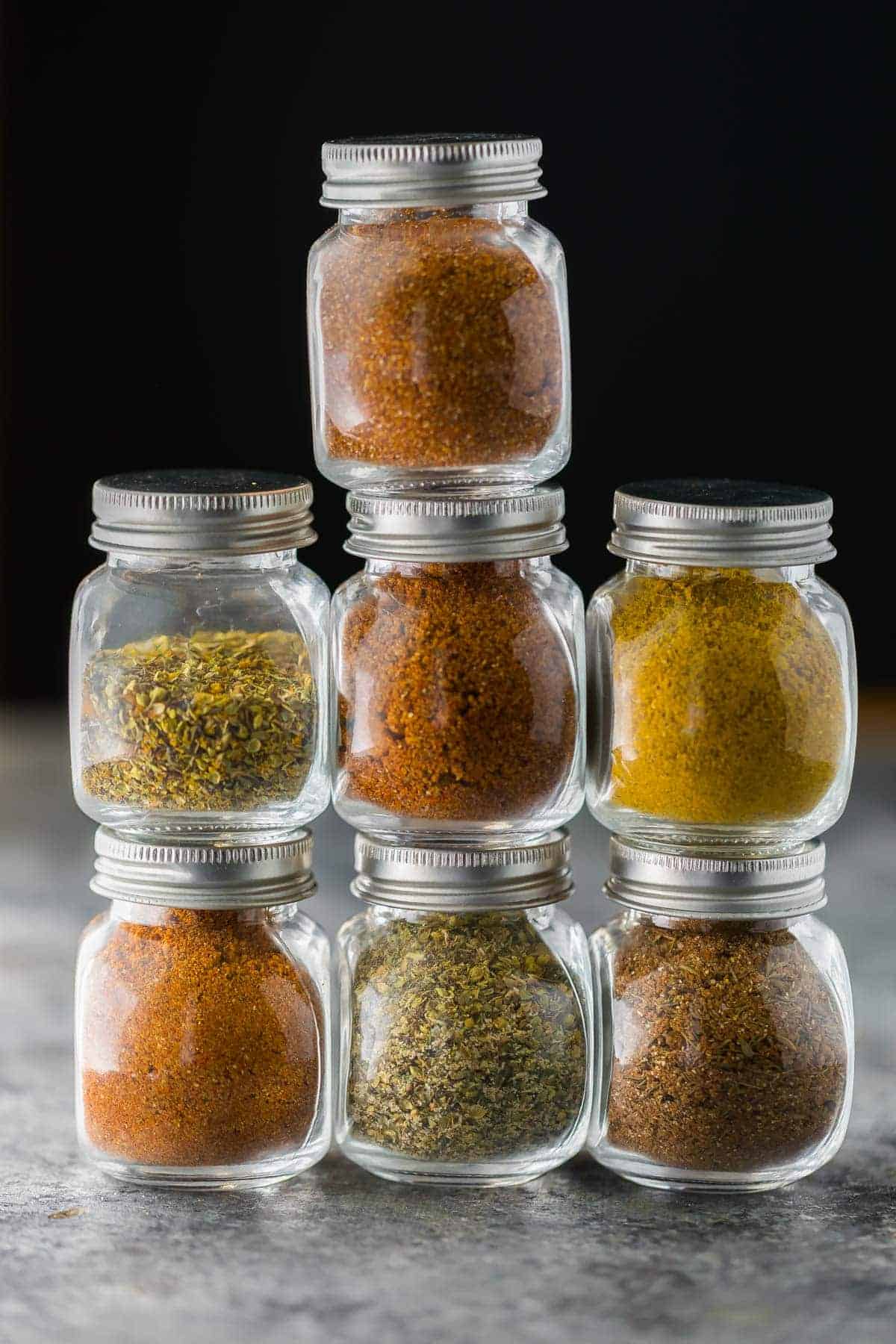 Stock your pantry with whole spices where available (i.e., cloves, star anise, peppercorns, coriander seed, etc.), then grind them as you need. Pre-ground or powdered spices lose their essence more quickly, which means less flavor in your spice mix. While these are easiest to find at a store specializing in spices, a well-stocked grocery store may also have a nice selection. However, some spices — ginger, onion powder, turmeric and cocoa powder — are easiest to use and work with in powdered form.
Use a Vitamix, a dedicated coffee grinder, or a mortar and pestle to grind your whole spices. To make the mixes below, simply combine the whole spices and pulverize them, then mix with the powdered spices in the recipe. Each formula yields about 1/4 cup of spice mix, so you can scale up or down depending on your needs. Present them in a mason jar with a cute label and voila!
The six salt-free spices below are templates for each of the six flavors we taste. Pack them into small jars and give them to someone who embodies each of the flavors — or who you know will appreciate a little extra sprinkle of sweet, salty, bitter, bright and tartness all year long.
Sultry & Sweet: Sprinkle into hot chocolate or squash soup.
4 teaspoons cinnamon powder
4 whole cloves
1/2 teaspoon cardamom seeds
1 teaspoon smoked paprika
Two big pinches of saffron
Spiced & Savory: Pairs particularly well with poultry, vegetables, eggs and more.
6 teaspoons garlic powder
6 teaspoons onion powder
2 teaspoons celery seeds or leaves
Spicy & Sour: Delicious sprinkled over quinoa, couscous or roasted vegetables.
6 teaspoons sesame seeds, toasted
4 teaspoons pink peppercorn
4 teaspoons sumac
2 teaspoons fennel seeds
2 teaspoons black pepper
Bright & Powerful: Pairs well with soups or pork.
3 teaspoons cayenne pepper
2 teaspoons ginger powder
2 teaspoons white peppercorn
2 teaspoons anise seeds
Bitter Sweet: Fantastic on top of coffee or roasted squash.
4 teaspoons cocoa powder
4 teaspoons ginger
2 teaspoons turmeric
1/2 teaspoon ground nutmeg
Tangy & Tart: Sprinkle over chicken soup or roasted vegetables; use to flavor meats or in dressings.
4 teaspoons coriander seeds
4 teaspoons onion powder
4 teaspoons dill seeds
1/2 teaspoon cumin powder
Once you get the hang of grinding and combining these salt-free spice blends, you can start to play with different combinations and personalize them. As they are, these sodium-free mixes are perfect for sprinkling on vegetables, meat dishes, adding to salads or starches, over soup or really anywhere you want to add a little salt-free kick.